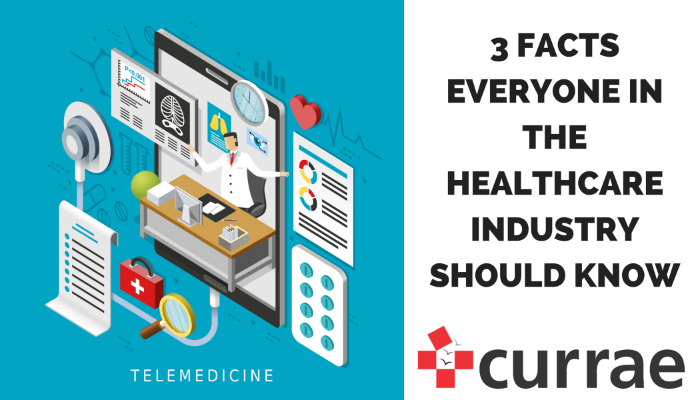 3 Facts Everyone in the Healthcare Industry Should Know (part 1)
In my work with Currae Healthcare I have come across some interesting facts about the Indian healthcare market that I thought could be of interest.
FACT #1: INDIA DOES NOT HAVE ENOUGH GOVERNMENT DOCTORS
According to the BMJ report published in September 2015, "India has one government doctor for every 11,528 people and one nurse for every 483 people". The study also found that government hospitals had one bed for every 1050 people, with some Indian states having a much more skewed ratio (more people for each bed).
According to Deloitte, India's doctor-to-patient ratio is significantly lower than the World Health Organizations average of 2.5 doctors for every 1000 people. India needs to add an additional 1.54 million doctors and 2.4 million nurses to keep up with global averages in these areas. Additionally, the United States has one bed for every 350 patients, while Japan has one bed for every 85 individuals. India will need to add 100,000 beds over the next 10 years to match the standards of other developed countries.
FACT #2: INDIAN TELEMEDICINE IS BOOMING
According to the India Brand Equity Foundation (IBEF), telemedicine services are a fast-growing sector in this market. Most major hospitals have entered into this realm; the market is currently valued at US$7.5 million with huge expected growth pushing the market to nearly US$19 million by 2017.
According to Deloitte, "Telemedicine can bridge the rural-urban divide by extending low-cost consultation and diagnostic facilities to the remotest areas via high-speed internet and telecommunications." India's mobile infrastructure has been growing (and recently saw the release of 4G speeds). There are more than 20 mobile health (mhealth) initiatives happening in India today, including those for spreading awareness about family planning and controlling lifestyle illnesses.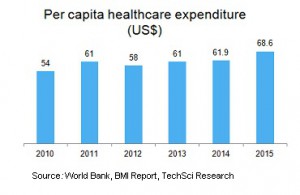 FACT #3: INDIA WILL BE A GLOBAL HEALTHCARE HUB
According to IBEF, "The Government of India aims to develop India as a global healthcare hub". To this end, the National Health Mission (NHM) was created to provide healthcare to urban and rural populations. The Indian government provides healthcare agencies with reduced excise and customs duties and tax exemptions in support of this initiative. Additionally, Deloitte reports that the medical tourism sector is expected to more than double in the coming years. India's Ministry of Tourism reports that the percent of foreigners seeking medical treatment in India is increasing every year.
According to Traveljee, the top five destinations for the best treatment in India are:
• Chennai, Tamil Nadu: Almost 40% of medical tourists travel to this destination for care, to the tune of about 200 foreigners per day.
• Mumbai, Maharashtra: This destination features a wide selection of world-class facilities for care in dentistry, pregnancy, cosmetic surgery, orthopedics, weight loss, and other sectors.
• Goa
• New Delhi
• Ahmedabad